Bushscout UK's fire bundle basket
Terry Longhurst said, "Bundle baskets are what we use with young people when fire lighting, using a bundle it prevents them getting burnt, it also helps if they have special needs."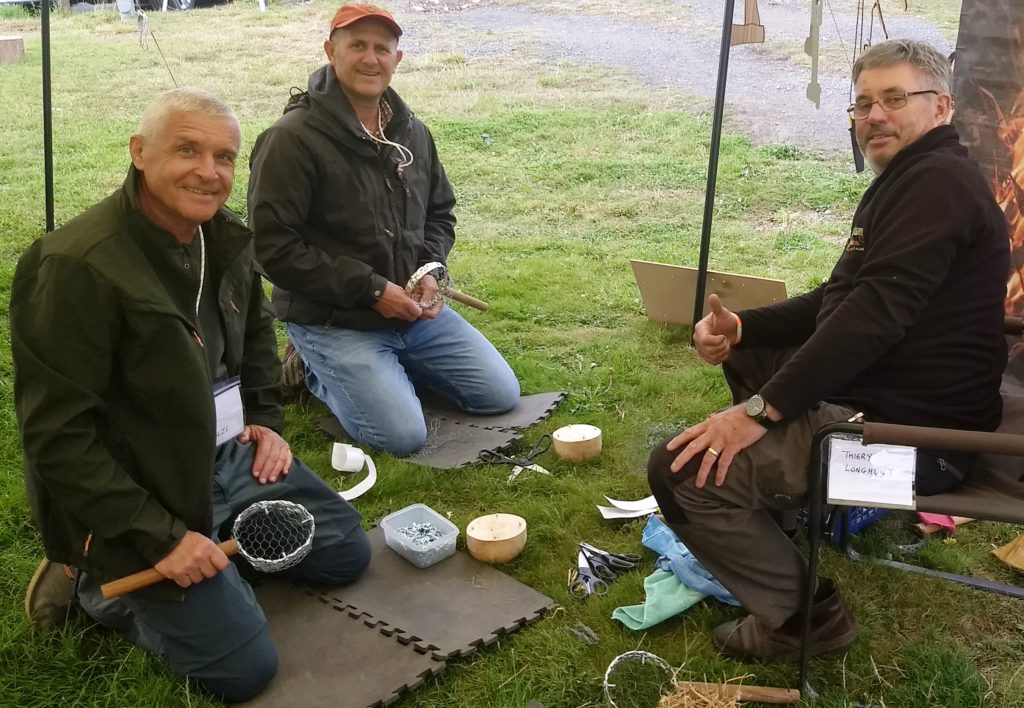 Such a fire bundle basket is basically chicken wire, which was formed into a half-moon shape over a wooden mandril and clamped in place on the mandril with a perforated steel tape by a screw in a wooden handle. The formed chicken wire will be bent over the steel tape, cut in shape, and secured around the rim by an aluminum tape. Finally, three short screws will be added on the inside of the scoop in order to help keeping the tinder in place.
With the fire bundle basket, it is not necessary any more to have long, dry grass stems available as tinder, which can be bent around, forming a 'bird's nest'. The basket can hold a variety of small pieces of tinder and holds them securely together. And as Terry said in his entry statement, it helps preventing beginners from getting burned, when the tinder is flashing up.
More advanced Bushcrafters will use fern leaves holding together small pieces of tinder, but this requires extra skills, and the emanating smoke is less than pleasant.
Lessons learned about Bushscout UK and the 'Fire bundle basket'
Although a man-made contraption, a fire bundle basket is a valuable tool for young people and beginners to securely bring an ember into life
Terry Longhurst and his team at Bushscout UK are a highly innovative group of volunteers, who help to bring young people close to bushcraft. Another one of their fire craft projects is e.g., the 'Magnesium candle Birthday cake' competition
Global Bushcraft Symposium 2022 (GBS2022) and Terry Longhurst
GBS2022 was held from 27th-31st July 2022 at a location at Llyn Tegid (Bala Lake), within Snowdonia National Park, in North Wales, UK.
Terry has nearly 40 years' experience of outdoor activities. He volunteers with The Scout Association and is a founder member and the National Manager of the National Scout Active Support Unit called Bushscout UK, which runs skills days for adult leaders in Scouting throughout the UK. Terry has a wealth of practical experience and has contributed towards The Scout Association Haynes Outdoor Adventure Manual, Scouting Magazine, and The Bushcraft Journal, whilst also spending the last 10 years developing Bushscout UK. He also shares his exploits via his social pages Old Man Woodcraft. Terry was leading the Youth Engagement Camp in the GBS Theme Camps.
Terry Longhurst was reviewing this post on August 14, 2022 and had no objections.