Taste of Gaur meat at Kaeng Krachan rainforest
We were on a weeklong trail through the Kaeng Krachan rainforest, near Hua Hin in Thailand, when we tasted Gaur meat. Together with two National Park (NP) rangers, we came across a freshly died Gaur heifer. This Gaur (Bos gaurus) was obviously poached, as there was a small-caliber rifle shot visible in the upper throat area. And the heifer died most probably of starvation, as the whole throat was full of necrosis.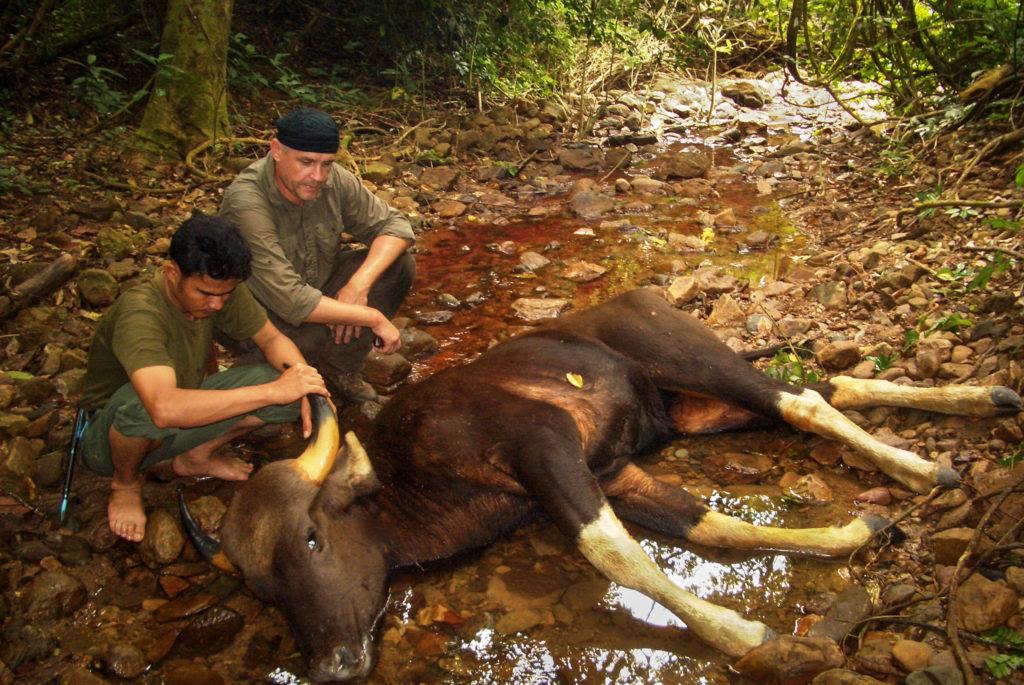 Poachers at Kaeng Krachan
The location we found the animal was about 5 km from the Myanmar border. During our walk we came across poacher camps twice. These camps were very simple fireplaces with plastic bags and some textile parts lying around. And I also found a shooting location above a well-used game path. Now it was clear, why the NP management insisted of two rangers accompanying the three of us. And the Lead was armed with a .45 ACP pistol.
Finding a dead Gaur (Indian bison)
After finding the animal, our lead ranger (Yai) insisted to remove the Gaur head and lug it back to NP headquarters. This was at least two walking days away from our position. The second ranger (Lek) and I honored the spirit of the cow, asked for forgiveness to cut off the head and did the red work.
Afterwards I cut a nice slab of meat from the neck and a part of the tongue. And ate both for dinner. All Thai rangers are strictly forbidden to eat any meat from National Park animals. Therefore both, Yai and Lek, refused to taste even a tiny part of it. But closed both eyes and did not see that a Falang (foreigner) grilled these pieces of meat. Taste of meat and tongue was similar to that of beef, but the meat slab was very tough.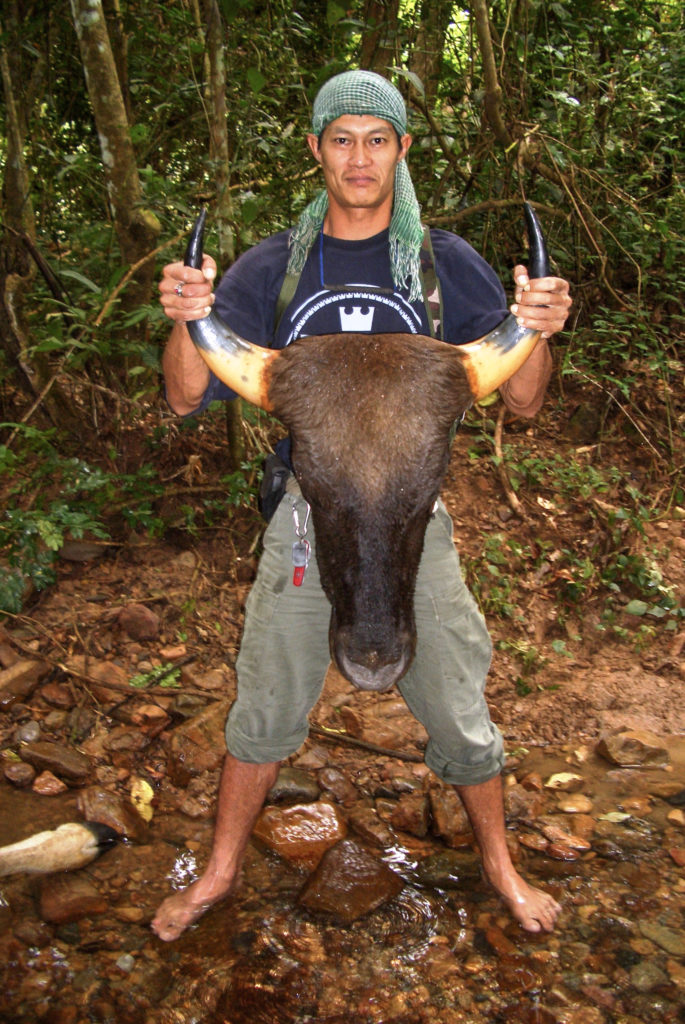 When sleeping overnight on our trek back to HQ, we submerged the head in a water pool in a stream. This was to avoid attracting big predators. Kaeng Krachan NP is well known for its tiger- and leopard populations. Everything went fine and fish had a good meal overnight.
Back to National Park Headquarters
When finally arriving next day afternoon in the NP HQ, we handed over the skull. Than wrote a report and gave them our SD card for copying the photos. Very friendly and with a big smile the head of Ban Krang Ranger Station invited us for dinner and gave us back our SD card – where all photos were deleted. I was furious and everybody around us smiled very friendly without any comments. One week later, I was also smiling, as it was possible to restore most of the deleted photos.
Lessons learned from eating Gaur meat
Neck meat of a Gaur heifer tastes very similar to beef. It would be better if left ripening some days and if the animal would not have been under intense stress
Tongue of a Gaur heifer tastes like beef tongue – very well.