Jujube trees at Ayutthaya in Thailand
The Ayutthaya Historical Park covers the ruins of the old city of Ayutthaya, which was founded already in 850 AD by the Khmer and named after the Hindu holy city of Ajodhya. It was destroyed by Burmese in 1767 and is an UNESCO World Heritage site since 1991. And it is also famous for its Jujube trees.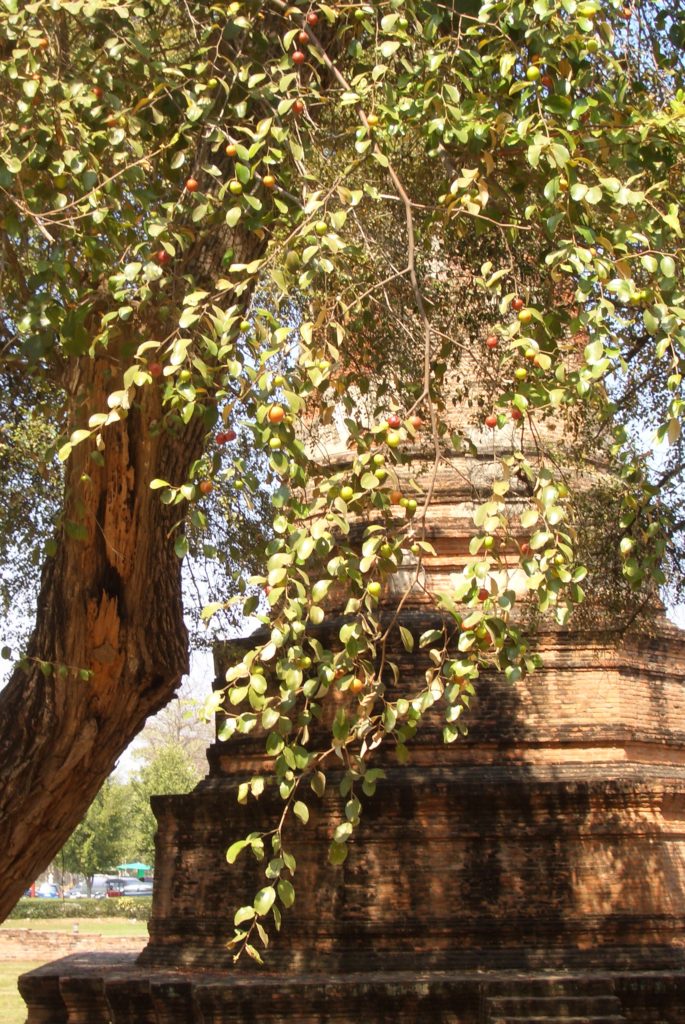 History of Jujube trees at Ayutthaya
King Naresuan (1556-1605) had his residency at Ayutthaya and after a battle with the Burmese he ordered to plant hundreds of Jujube trees (Ziziphus jujuba) all over the palace. At a decisive battle with the Burmese, his elephant stumbled, and he nearly fell, but was held up by a Jujube tree, which saved his life. Otherwise, he would have fallen from the elephant and would have been at the mercy of the advancing Burmese hordes.
Since planting, he invited people to freely pick Jujube fruit from these trees in order to instill some sense of civic pride to them. After the remaining buildings and pagodas were declared a World Heritage Site, Princess Maha Chakri Sirindhorn ordered to conserve 762 Jujube trees on site and the inhabitants of the town of Ayutthaya were allowed to collect the fruit for free. Since then, collecting ripe Jujube fruit at the old Ayutthaya palace area is a welcome pastime for many Thais.
Some facts about Jujube fruits
Jujube fruit (also called Red date, Chinese date, and other common names) is used in a variety of preparations, but mostly fresh, dried, smoked, in some kind of marmalades, juices or even as or in spirits. Its distribution ranges from Bulgaria over Near-, Middle East, South Asia to Far East. Jujube fruits got a calorific value of 287 kcal/100g.
Lessons learned from Jujube trees at Ayutthaya Historical Park:
King Naresuan ordered to plant these trees at the current location and invited the population to collect the fruits
Princess Maha Chakri Sirindhorn reestablished this old custom