Hand nets, equipment and technique
For hand net fishing, mosquito netting is used to sieve water bodies for rice fields shrimps and fish fry in Thailand. In order not to lose caught animals, the netting was brought into a deep, bag-like shape, and hand-netting was borne.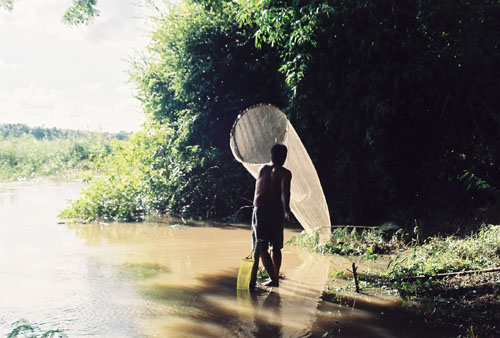 Scoops can be either used by holding on to the opening ring. Or by attaching a handle to the opening ring. Another possibility is to use a rectangular mosquito net. This will be held open by two poles and is dragged by two persons.
When hand net fishing, the water is simple sieved through the netting. There is a large number of shrimps and small fish living in all permanent water bodies in Thailand. And therefore the likelihood is very high that every time something will be caught. The catch will either serve as an individual meal or be part of a social gathering. Many of these gatherings will be around a campfire. And if only men are there, it will be brightened up by some 'Khao lao' (rice liquor).
Lessons learned on hand net fishing
With some basic bushcraft skills, a hand net and the right piece of mind, it is practically impossible to starve in Thailand
Nearly every netting device with a mesh size below 5 mm can be used for catching rice field shrimps and/or small fish.